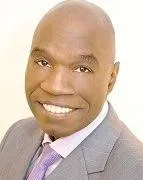 Cecil Parker has been a member of SAG-AFTRA, Philadelphia Chapter, since the 1980s.  Born and raised in West Philadelphia, Cecil went to Penn State University where he found his passion for singing while performing in fraternity step shows.  For the last several years he has sung the National Anthem for the Philadelphia Council, AFL-CIO at conferences and at the 2020 Workers Summit, and he has sung the National Anthem for the Philadelphia 76ers since 1981.  Having worked on The Good Fight and House of Cards, Cecil's acting is second to his love of singing. He is currently working on his sixth album.  
"I'm glad I got involved.  The first time a came to a conference, I was blown away by all these people who have this intense commonality of making things better for other people, and they don't have to.  I didn't know what to expect," Cecil reflected.  
Which labor leader has most influenced your life and career in the union movement?
The Collective. "It's a struggle.  We're up against forces that punish the poor for being poor. I have a problem with that . .  .  If you don't have a strong union base, you basically get taken advantage of.  We see it every day and we fight against it everyday.  It's inspiring."
What is your most precious/significant piece of union memorabilia? 
All of it. 
What do you consider the unions movement's greatest achievement so far?
The "stick-to-it-iveness" . . . "People don't want to pay us what were worth or the benefits we deserve, and unions are at the forefront.  We call each other brothers and sisters, I love that. We're all brothers and sisters because were all part of the struggle. You get to belong to something."  
What are you most proud of your local union for achieving?
"The amount of work. It's very competitive, so getting the amount of work in our area benefits so many other unions.  When there's a project up for grabs, it's a dogfight.  For quite a few years they've been able to get work in our area, so actors and performers don't have to go elsewhere.  If you don't use union professionals, you're taking a chance.  Because the professionals know what it takes.  It's about the quality of the work.  
What three words best define the union movement?
Strong, Focused, Unabated.