PA AFL-CIO Applauds Governor Shapiro Commitment to Economic Growth for Pennsylvania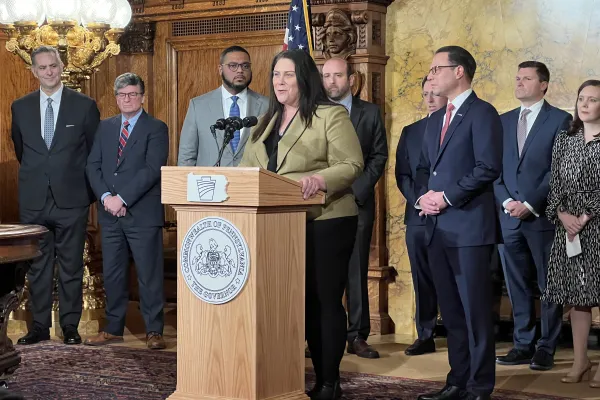 PA AFL-CIO Applauds Governor Shapiro Commitment to Economic Growth for Pennsylvania
Shapiro Prioritizes Union Jobs  
CONTACT: Kate Philips
215.850.4647 | mobile
HARRISBURG, PA (January 24, 2023) — PA AFLCIO President Angela Ferritto joined Governor Shapiro as he signed an Executive Order creating the Pennsylvania Office of Transformation and Opportunity and the Economic Development Strategy Group today. The Executive Order defines the reignition of the Pennsylvania economy as a top priority for the Shapiro administration and demonstrated a clear commitment to next generation of union jobs.
"It's energizing to see economic development paired with high quality job creation and retention — which by definition will translate to more union jobs," said Angela Ferritto, PA AFL CIO president. "Just one week into his administration, Governor Shapiro has affirmed that his priorities are the people's priorities.
"We applaud the Governor and his administration for coming out of the gates with a clear demonstration of his vigor and values rooted in union jobs across all economic development fronts."
 The Office of Transformation and Opportunity will help develop and lead an overall growth strategy and implement economic development projects. By coordinating with Commonwealth agencies, expediting permit reviews, and ensuring the speed of business review and approval of key incentive programs, this office will help businesses cut through red tape, support growth, and encourage other businesses to move here.
The Economic Development Strategy Group will directly advise the Governor on economic development projects and processes to attract and retain employers, recruit innovation leaders, and create good-paying jobs in Pennsylvania.
The Pennsylvania AFL-CIO represents 700,000 workers from 51 International Unions, and 1,422 Locals in all of Pennsylvania's 67 counties. 
###