Seven Mountains Central Labor Council, AFL-CIO Announces 2023 Centre County Endorsements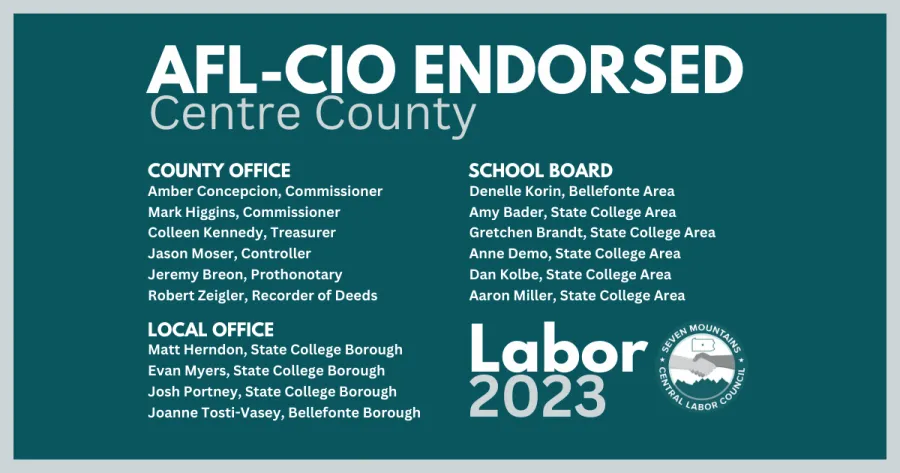 For Immediate Release
Contact: Connor Lewis at president@sevenmountainslabor.org
(State College, PA) – On behalf of nearly 16,000 members of union households within the Council, Seven Mountains AFL-CIO announces the following endorsements for candidates for Centre County offices in the 2023 election cycle. 
Candidates seeking endorsements were invited to submit questionnaires to the Labor Council, and to meet with the Labor Council to discuss their candidacies. The endorsement process was shared with candidates, as well as the Centre County Democratic and Republican parties, with the request that the endorsement process be shared with candidates for office. Endorsements were only granted to candidates who sought them.
"Centre County can be a union county with union boroughs and townships," said Connor Lewis, Labor Council President and delegate from TNG-CWA Local 32035. "We believe that these candidates share a commitment to supporting working families through standing with workers, promoting good, safe jobs, and building strong communities."
Seven Mountains will actively support endorsed candidates for office and will mobilize, along with its affiliates, to share information on pro-worker candidates with union members, turn out the union vote, and to defend the pro-worker majority on the County Commission. The Pennsylvania AFL-CIO will be releasing its statewide endorsements in the coming weeks.
Centre County Commission: Mark Higgins, Amber Concepcion
Centre County Treasurer: Colleen Kennedy
Centre County Controller: Jason Moser
Centre County Prothonotary: Jeremy Breon
Centre County Recorder of Deeds: Robert Zeigler
State College Borough Council: Matt Herndon, Evan Myers, Josh Portney
State College Area School District: Amy Bader, Gretchen Brandt, Anne Demo, Dan Kolbe, Aaron Miller
Bellefonte Area School District: Denelle Korin
Bellefonte Borough Council, Ward 3: Joanne Tosti-Vasey
###
Seven Mountains Central Labor Council, AFL-CIO, is the local voice of the American Federation of Labor and Congress of Industrial Organizations, representing 16,000 members of union households in Centre, Huntingdon, Mifflin, and Juniata counties.